Wedding Bouquets  – by Phuket Flowers by Toom.
Below are a selection of Wedding Bouquets by Phuket Flowers by Toom created for her Wedding Clients in Phuket and Thailand.  Also shown are a number of Bridesmaid's Bouquets.
Each Bouquet, either for the Bride or Bridesmaid is lovingly made to order, with the best quality flowers, to the requested design of the Bride.  Many times the Bride will only advise colour and theme and  ask for a unique design. Toom does this for her own Wedding Clients of course but also for other Wedding Planners in the Phuket.
If you are looking for just a wedding bouquet for a simple Phuket Wedding or already have your own Wedding Planner and planning a larger event, please just contact us and we can surly help with a design and colour theme Bouquet to match your Wedding theme.
Not Just Wedding Bouquets, but Bouquets & Flowers for all occasions
You can contact me here, complete the online form but also please visit my Facebook Page – Phuket Flowers by Toom.
With all flower orders and Bouquet delivery we wil send a picture of the completed design. Plus we will send a picture at delivery hopefully with the intended recipient.
Bookings are confirmed with full payment. Payment can be made using PayPal
---
We cater for all types of Wedding in Phuket with handmade, individually designed Wedding Bouquets and Wedding Boutonnieres to complete the Wedding design. Supparin and her Team of Florists, will work tirelessly on your Wedding Flowers for you so you can concentrate on other aspects of your Special Day.
Supaprin is also a Wedding Planner in her own right, as well as working for all the major Phuket Wedding Planners, and more of her work can be seen at Unique Phuket Wedding Planners website.
---
Examples of my Wedding Flowers for Wedding venues can be seen in my Phuket Wedding Flowers Gallery & Phuket Beach Wedding Flowers Gallery.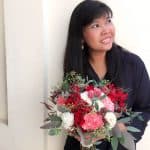 For your Wedding Flowers and larger design projects, please contact me here to discuss all your requirements. Please ,if you could include the date and venue location (if known) of your Wedding or Event. Supparin