Thailand Wedding Flowers – Flowers for that most important occasion
It has been a wonderful year for Thailand Wedding Flowers in Phuket so far and we have met some wonderful couples from all over the World.  The Wedding Flower designs below are from all over Phuket. We have been fortunate enough to work at the most luxurious Villas and some of the best beaches in Phuket.
It is almost impossible to explain all the Weddings Designs but we do hope that the pictures below give YOU inspiration when designing your Thailand Wedding Flowers.
Wedding Flowers
The highlight of any Wedding is the Wedding Ceremony Alter; For a villa wedding this is usually a Wedding Flower Arch or Wedding Flower stands.  We have the standard Flower Arch but we also have the rarer Square and Curricular Flower Arch.
For Beach Weddings, the Beach Gazebo dressed in Wedding flowers is the most popular.
We can provide any of these types of Wedding Ceremony Alter for your Wedding Flower focal point. Just contact us and we can discuss your Wedding Flower requirements and choices of wedding flowers and theme colour. There are many examples of our previous creations in the gallery below and in our main Wedding Flowers Gallery.
Bridal Bouquets
If you choose a hotel for your Wedding Day, the majority of your Wedding Flowers will be provided, but you may want to add to the Hotels Wedding Flowers Package with your own personalized Bridal Bouquet?  This is a common occurrence for Wedding Flowers Phuket.  So if you do need a Bridal Bouquet or Bouquets for your Bridesmaids we can help.  There are many examples of my previous work in my Bridal Bouquets Gallery.
We can design your Bridal Bouquet to your exact requirements. A picture with a small explanation is all that is normally needed and we will ensure that your Bridal Bouquet arrives in time your Wedding Ceremony, hand-delivered to any location on Phuket Island.
Wedding Decorations
As well as Bridal Bouquets, we are often asked to supplement hotel and villa Wedding Flower packages with additional Wedding Decorations. This invariably means beautiful Wedding Flower Table Centerpieces for the Wedding Reception. This can be done simply by emailing us with a picture and a small explanation.  Once your Wedding Decorations design is complete, we will confirm all the specifications with you and on your Wedding Day be there to set up with our team of experienced  Wedding Florists.  There are many examples of our previous creations in the gallery below and in our main Wedding Flowers Gallery.
We can also supply Bridal Bouquets and Wedding Decorations for your special beach Wedding Ceremony. We can deal with you directly or through your Wedding Planner – just email and we can discuss.
Thailand Wedding Flowers – Bridal Bouquets and Wedding Decorations  
Important Note
We do advise that before you make any bookings or sign contracts with your Wedding Venue you ask your Hotel , Villa Event Managers or Wedding Planner if you are allowed to use external vendors such as florists.  Also, are you able to compliment or add to your Wedding Flowers Package and if so are there any discounts for replacements?  The discounts might be small or non existent but the fact that you can use external vendors is an important part of choosing your Wedding Venue in Phuket.  Of course, if your cannot use external vendors then as long as the Wedding Flowers package suits your needs exactly then there is not a problem but it does restrict your options later in the planning process. Most venues are now open to the use of external vendors so you can have the Wedding exactly as you imagined and make changes all the way up to your Wedding Day. However, this enlightened approach to Wedding and Wedding Flowers planning is still not universal.
---
Supparin's passion is flowers and if we can help at all please get in touch.  Nothing is impossible and we can help you create stunning Thailand Wedding Flowers for your  Beach or Villa Wedding Ceremony in Phuket.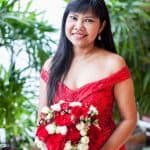 Thailand Wedding Flowers – Phuket Flowers by Toom has had a busy 2017 so far. We were introduced to some wonderful couples and we have had the opportunity to design some great Wedding ceremonies both at the beach and at some of the most luxurious Villas in Phuket.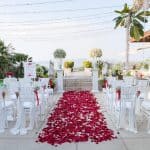 This is a team effort here at Wedding Flowers Phuket and Supparin would like to thank the following for all they help and support plus some great photography.
Thailand Wedding Flowers
We are Phuket Wedding Flowers for your Beach Wedding, Wedding Chapel Wedding or Villa Thailand Wedding Flowers in Phuket -please Contact Us anytime – admin@weddingflowersphuket.com
Not just Wedding Flowers but Flowers for all Occasions
---
We cater for all types of Wedding in Phuket and can deliver most ideas to ensure that beautiful and unique Wedding Flowers setup anywhere in Thailand. Also included are handmade, individually designed Wedding Bouquets and Wedding Boutonnieres to complete the Wedding design. Supparin and her Team of Florists, will work tirelessly on your Wedding Flowers for you so you can concentrate on other aspects of your Special Day.
Supaprin is also a Wedding Planner in her own right, as well as working for all the major Phuket Wedding Planners, and more of her work can be seen at Unique Phuket Wedding Planners website.